History will record that Mark Zuckerberg wasn't the first college student to have the idea of enabling people to set up Web pages and share stuff with their friends. Yesterday, my colleague Silvia Killingsworth wrote about the Winklevoss twins, two Harvard grads who famously accused Zuckerberg of stealing the idea for Facebook while working on their fledgling site Connect U. Before the Winklevii, there were the folks behind MySpace and Friendster. And before them, way back in 1995, there were Todd Krizelman and Stephen Paternot, who launched TheGlobe.com from their dorm rooms at Cornell.
TheGlobe.com allowed people to create their personal space online, upload pictures, and set up what came to be known as blogs. By 1998, it had more than two million members, which was then considered impressive. It also had a business plan: sell advertising. On November 13, 1998, Bear Stearns issued 3.1 million shares in the company at nine dollars each to some of its clients—the lucky ones. When Bear's traders tried to open the stock for trading, they found it difficult to establish a floor price. As I recalled in my 2002 book, "Dot.Con: The Greatest Story Every Sold" (apologies for the plug):
Whatever price they indicated—$20, $30, $40, $50—was too low. CNBC reported that the first trade might be $70, but even this proved to be a conservative estimate. After a lengthy delay, the first trade crossed the ticker at $87—almost ten times the issue price. Even for an Internet stock, this was unheard of. Within an hour, the price had risen to $97.
Read more HERE.
###
###
WordIQ Dictionary "WordIQ is a free online dictionary, encyclopedia, and educational resource. Our goal is to provide a valuable learning tool for students, parents, and teachers. We believe that learning should be free and that anyone who wants to spend the time to self-educate themselves through the discovery of information on the web should be empowered to do so. With our diverse array of reference material on our website, we hope that you will find everything you need from WordIQ."
In Haiti, there is one hospital bed for every 10,000 inhabitants. There are only about eight doctors and 10 nurses for every 100,000 inhabitants. – Provided by RandomHistory.com
###
"Gary Jones" Wants Your Nudes…
Is one hacker behind many of the "revenge-porn" photos that were posted on Hunter Moore's Is Anyone Up?
Hunter Moore said he would set fire to the Voice's office if I wrote this. Actually, the 26-year-old's exact words were, "Honestly, I will be fucking furious, and I will burn down fucking The Village Voice headquarters if you fucking write anything saying I have an FBI investigation."
Some background: Hunter Moore is a self-made Internet villain. For more than a year, the Sacramento native published nude cell-phone photos of 18- to 30-year-olds, usually against their will, on his blog Is Anyone Up. Some of the people posted were publicly notable: pop-punk bassists, an Ultimate Frisbee champ, an American Idol finalist, the founder of Dream Water, Twilight star Kiowa Gordon. The majority of them were not: a Taco Bell employee from Orlando; a wheelchair-bound St. Louis community-college student; a high school English teacher in Hamilton City, California. What made these online betrayals even more vindictive was that they appeared alongside the unwitting model's full name, social-media profile, and city of residence—private citizens in vulnerably explicit positions, just a Google search away from friends, enemies, parents, employers.
Read more HERE.
###
###
Money Unlimited
How Chief Justice John Roberts orchestrated the Citizens United decision.
When Citizens United v. Federal Election Commission was first argued before the Supreme Court, on March 24, 2009, it seemed like a case of modest importance. The issue before the Justices was a narrow one. The McCain-Feingold campaign-finance law prohibited corporations from running television commercials for or against Presidential candidates for thirty days before primaries. During that period, Citizens United, a nonprofit corporation, had wanted to run a documentary, as a cable video on demand, called "Hillary: The Movie," which was critical of Hillary Clinton. The F.E.C. had prohibited the broadcast under McCain-Feingold, and Citizens United had challenged the decision. There did not seem to be a lot riding on the outcome. After all, how many nonprofits wanted to run documentaries about Presidential candidates, using relatively obscure technologies, just before elections?
Read more HERE.
###
EU Attacks Pirate Bases
Seaborne piracy against transport vessels remains a significant issue, particularly in the waters off the coast of Somalia, where the hijacking of commercial vessels and their crew for exorbitant ransoms is becoming an increasingly frequent occurrence. Military vessels from countries around the globe have long patrolled the dangerous waters, and now the EU is taking the fight to the pirates' doorsteps. In an effort to deny the pirates a safe haven on shore and to disrupt their operations, EU forces conducted their first raid on pirate bases on the mainland. The strike destroyed a key supply center and rendered at least five of the pirates' fast attack vessels inoperable. More …
###
###
Mexico's Drug War: 50,000 Dead in 6 Years
Since Mexico's President Felipe Calderón began an all-out assault on drug cartels in 2006, more than 50,000 people have lost their lives across the country in a nearly-continuous string of shootouts, bombings, and ever-bloodier murders. Just last weekend, 49 decapitated bodies were reportedly discovered on a highway in northern Mexico. The New York Times reports on an increasing numbness and apathy among Mexicans after years of worsening carnage, about which they've been able to do virtually nothing. Gathered here is a collection of recent photographs from Mexico's drug war and the people so horribly affected by it. [44 photos]
Warning: All images in this entry are shown in full. There are many dead bodies; the photographs are graphic and stark. This is the reality of the situation in Mexico right now.
MORE.
###
31 Amazing Photos Of Donna Summer
"The Queen of Disco" died yesterday at 63. She leaves behind a legacy of beautiful music — and beautiful photos. Here's a look back at her life of sequins, fabulous hair and sartorial surprises.
MORE.
TRACKS
###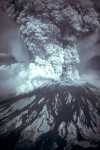 Mount Saint Helens Erupts (This day in 1980)
Beginning in mid-March 1980, a series of earth tremors and steam explosions at Washington's Mount Saint Helens suggested that the volcano—dormant since 1857—was on the verge of erupting. Then, on May 18, the entire north side of the mountain exploded in a cloud of ash, rock, and fiery gases that collapsed a good part of it and carried debris for many miles. About 60 people were killed, and millions of tons of ash blanketed much of the American northwest. How far did the ash eventually spread? More…
###
Glory days:
A pundit's rosy view of the Pax Americana
Call it a hallowed tradition. To invest their views with greater authority, big thinkers—especially those given to pontificating about the course of world history—appropriate bits of wisdom penned by brand-name sages. Nothing adds ballast to an otherwise frothy argument like a pithy quotation from John Quincy Adams or George F. Kennan or Reinhold Niebuhr. In The World America Made, a slim volume of mythopoeia decked out in analytic drag, the historian and pundit Robert Kagan cites all three of those renowned figures. For real inspiration, however, he turns to a different and altogether unlikely source: Hollywood director Frank Capra. The World America Made begins and ends with Kagan urging Americans to heed the lessons of that hoariest of Christmas fantasies, It's a Wonderful Life.
Remember Clarence, the probationary guardian angel? Clarence saves George Bailey from suicidal despair (and earns his wings) by showing George what a miserable place Bedford Falls would have been without him.
Read more HERE.
###
###
Detainees at Afghanistan's largest U.S.-built prison were able to literally kick through their poorly constructed cells, according to a new Pentagon report. Photo: Defense Department Inspector General
The detention facility that the U.S. built in Afghanistan is state-of-the-art. Except for all of the faulty hinges on the cell doors. Or the locks that are, in the words of a new report from the Defense Department's inspector general, "incapable of locking either manually or electronically." Or the construction that's deemed "not up to the standard suitable for a detention facility."
The worst part? U.S. military commanders have known about these flaws since the prison opened its doors.
Built in 2009, the Detention Facility in Parwan is a sprawling campus of 14 buildings, capable of housing — once a planned expansion is completed — some 2,000 detainees. The U.S. spent $60 million to construct it, to demonstrate the professionalization of detention operations after years of scandals in Iraq and Afghanistan. What the U.S. military didn't reveal was that it has known from the start that the building has serious engineering flaws — flaws that lead to security liabilities. And all of this was the result of lackadaisical oversight of contractors hired by the U.S. Army Corps of Engineers.
The magnetic sensors and electronic locks on the "access doors" that prevent detainees from traveling between cell blocks, are "defective" and had to be removed, according to a report the Defense Department's inspector general released on Thursday. That removal caused the electronic systems integrating and remotely controlling the doors to be "ineffective."
MORE.
###
Online friendships light up shadow social networks
FRIENDING someone on Facebook makes an association public, but many relationships are never professed online. Now there's a way to use the structure of an online social network to deduce the offline connections, dubbed "shadow connections", between people who don't use the service.
The technique may alarm those concerned about online privacy – but it could also be applied to other network types, helping to reveal hidden brain connections or biochemical pathways.
Previous research has shown it is possible to deduce information about members of online social networks that they have not explicitly revealed – such as their location, personality or sexual orientation – from what their friends reveal online. But these predictions all require a person to have set up an online profile.
Read MORE.
###
###
1,000 years of climate data confirms Australia's warming
In the first study of its kind in Australasia, scientists have used 27 natural climate records to create the first large-scale temperature reconstruction for the region over the last 1000 years. The study was led by researchers at the University of Melbourne and used a range of natural indicators including tree rings, corals and ice cores to study Australasian temperatures over the past millennium and compared them to climate model simulations.
Lead researcher, Dr Joelle Gergis from the University of Melbourne said the results show that there are no other warm periods in the last 1000 years that match the warming experienced in Australasia since 1950.
"Our study revealed that recent warming in a 1000 year context is highly unusual and cannot be explained by natural factors alone, suggesting a strong influence of human-caused climate change in the Australasian region," she said.
MORE.
###
Now You Know Why Your Boss Is Such an Ape
Much of human behavior is entirely predictable to scientists who study the ways of primates.'
Generally, junior professors write long and unsolicited emails to senior professors, who reply with short ones after a delay; the juniors then reply quickly and at length. This is not because the seniors are busier, for they, too, write longer and more punctually when addressing their deans and funders, who reply more briefly and tardily. The asymmetry in length and speed of reply correlates with dominance.
When a subordinate chimpanzee grooms a dominant one, it often does so for a long time and unsolicited. When it then requests to be groomed in turn, it receives only a brief grooming and usually after having to ask a second time.
This gorgeous little juxtaposition of tales comes from a new book by Dario Maestripieri of the University of Chicago, who is both a professor and a primatologist (and a primate). His book, called "Games Primates Play," is devoted to ramming home a lesson that we all seem very reluctant to learn: that much of our behavior, however steeped in technology, is entirely predictable to primatologists.
MORE.
###
###
The Myth About Marriage
Why do some people who would recognize gay civil unions oppose gay marriage? Certain religious groups want to deny gays the sacredeness of what they take to be a sacrament. But marriage is no sacrament.
Some of my fellow Catholics even think that "true marriage" was instituted by Christ. It wasn't. Marriage is prescribed in Eden by YHWH (Yahweh) at Genesis 2.24: man and wife shall "become one flesh." When Jesus is asked about marriage, he simply quotes that passage from Genesis (Mark 10.8). He nowhere claims to be laying a new foundation for a "Christian marriage" to replace the Yahwist institution.
Some try to make the wedding at Cana (John 1.1-11) somehow sacramental because Jesus worked his first miracle there. But that was clearly a Jewish wedding, like any other Jesus might have attended, and the miracle, by its superabundance of wine, is meant to show the disciples that the Messianic time has come. The great Johannine scholar Father Raymond Brown emphasizes this, and concludes of the passage: "Neither the external nor the internal evidence for a symbolic reference to matrimony is strong. The wedding is only the backdrop and occasion for the story, and the joining of the man and woman does not have any direct role in the narrative."
The early church had no specific rite for marriage.
MORE.
###